Our Practice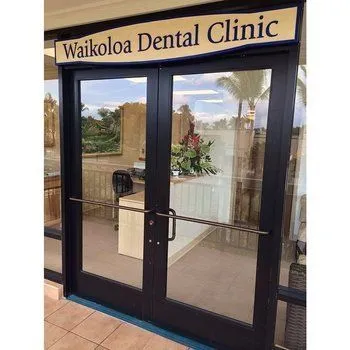 A Beautiful Practice For All Your Dental Needs
Facility

Our facility at Waikoloa Dental Clinic is the most up to date, modern dental office on Hawaii Island. Our newly built-office offers floor to ceiling windows with magnificent views of the beautiful Queens' Marketplace located within the Waikoloa Beach Resort.
Our new waiting room and office are sparkling clean, open spacious and relaxing with soothing sounds for your benefit. Walking into our office is like walking into a spa, cool comfortable and inviting.
Waikoloa Dental Clinic has the optimum location in Queens' Marketplace, so our patients can enjoy their time while visiting our office. With shopping and dining options, koi ponds, a food court, coffee and ice cream shops just steps away, it's now possibly to make a trip to the dentist fun and entertaining for the whole family!
If you are a visitor staying in a nearby hotel, timeshare or condominuium, and you have a dental emergency, please don't let that spoil your Hawaii vacation. Call our office and let us do our best to take care of the issue and let the rest of your stay be uninterrupted. And for our local Kama'aina, it is our pleasure to serve you and your 'ohana at Waikoloa Dental Clinic.
Come see us today!
We are proud to provide a state-of-the-art facility for the highest quality dental care available. It is one of our top priorities to protect the well-being of our valued patients. For this reason, our office meets and surpasses all OSHA (Occupational Safety and Health Administration) and CDC (Center for Disease Control) standards. We are confident that you will feel right at home in our office as we welcome all patients as if they were family.
Appointments

If you would like to make an appointment, please contact our office by phone or email. Appointments are available and welcome, especially for new patients seeking help.
Financial

We will be more than happy to submit all insurance forms for you and help you recover the most from your benefits. We will do everything we can to help you afford the treatment you need and want. For patients who require major work, a complete payment plan is designed with an appropriate payment schedule. Forms of payment accepted by the office are check, cash, or any major credit card.
Insurance
HDS (Delta Dental)
Aflac
Aetna
Humana
Kaiser Permanente
Blue Cross & Blue Shield

Cancellation

If you are unable to keep an appointment, we ask that you kindly provide us with at least 24 hours notice. We ask for this advance notice so that we can offer this appointment to another patient. A fee may be charged if a patient does not show up for an appointment without sufficient notice.

We would like to take this opportunity to thank you for choosing our practice for your dental care.